About Us
Garella Pest Services
Garella Pest Services is a company that specializes in protecting homes and commercial properties from unwanted critters. Since 1945, our four-generation, family-owned business has set high standards so that all our clients remain pest-free. We proudly assist southern & central areas in Illinois and are dedicated to providing the best services possible.
Image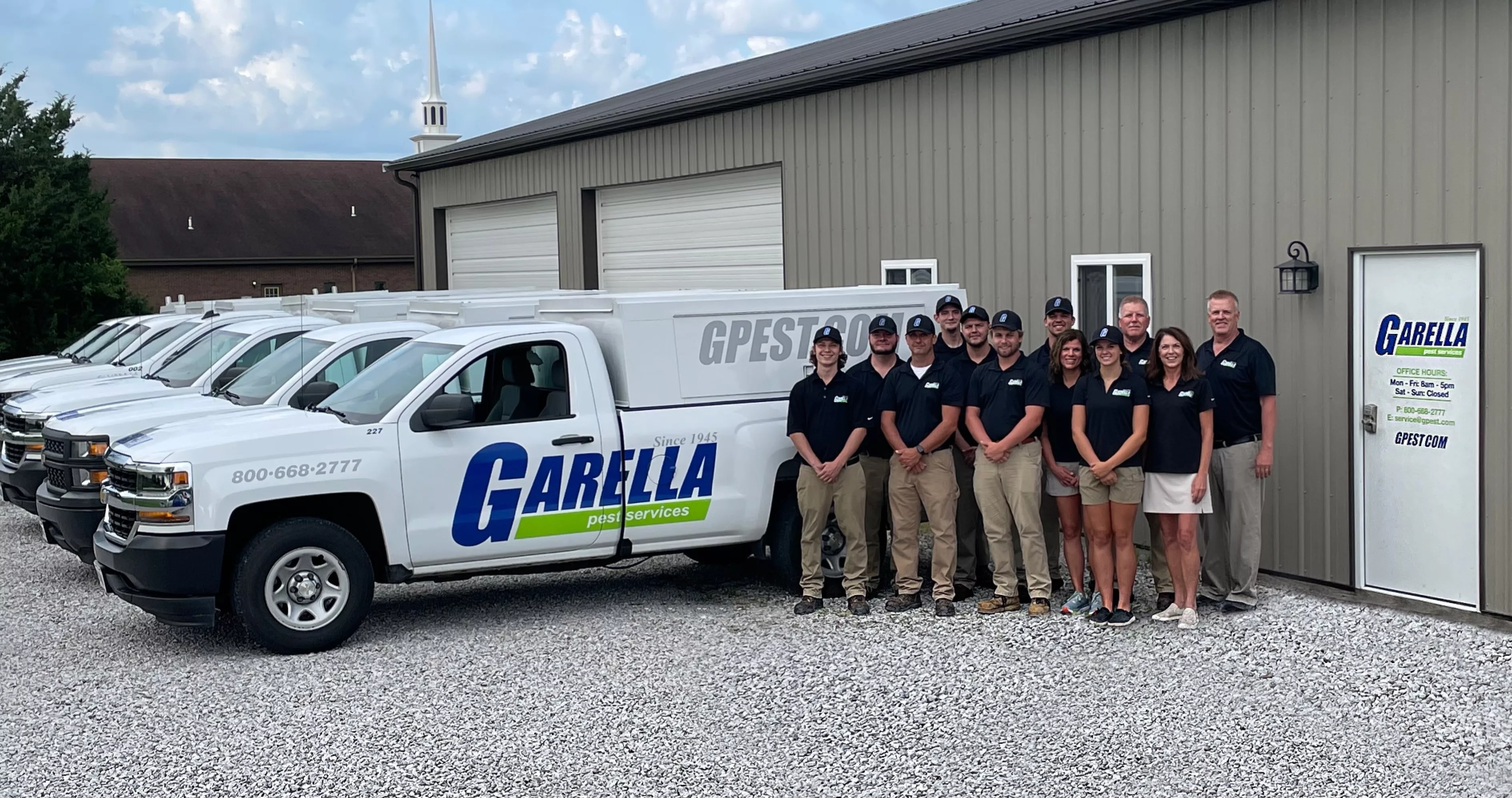 Our Story: Four Generations
Barney Garella founded Garella Pest Control in 1945, towards the end of WWII. He was a hard-working, do-it-right kind of guy—no different than many from that era. Offering monthly pest control treatments for bars, businesses, and restaurants, and conventional termite treatments for businesses and residential homes, Barney quickly grew the business and became the market leader in south-central Illinois. He managed the company through around 1970, at which point he handed the business off to his son, Jerry Garella, though Barney continued to perform termite treatments up until 1985.
Following in his father's footsteps, Jerry Garella ran the business for about 30 years—from 1970 to 2000—during which he changed the business name from Garella Pest Control to Garella Pest Management. As a talented brand manager and service operator, Jerry was able to double the size of the business, establishing Garella's service reputation for "no-excuses excellence".
Next in line was Jerry's son, Craig Garella, who grew up and worked in the family business as a kid and young adult. Though he initially pursued a career outside the family business as an Ops Manager with FedEx, where he gained valuable operations and customer service experience, Craig rejoined the family business in 1999. At this point, he and his wife, Tracey, started their own Garella Pest Service satellite office, though Craig officially took over the entire business when his father retired in 2001. Today, Craig still serves as President and Owner and Tracey as CFO, though the next generation isn't far behind.
Jake Garella, son of Craig and Tracey, has also grown up in the company, working summers and during breaks from his alma mater, St. Louis University. Having joined the company full time in May 2021, Jake is working in the field as a service tech, learning the business from the ground up—which has been a family tradition from day one. Jake is already well known in the community, largely due to his outstanding baseball career, both at Edwardsville High School, as an all-state and all-American standout, and at SLU. His proven leadership ability and work ethic fit right into the core plan of taking Garella Pest Services into the next generation.
Jake's siblings, Dominique, Jordan, and Jenna, have all been involved in the business from a CSR perspective and Edwardsville High Schooler, Jenna, will be running a termite route in the summer of 2022.
Our Techniques
Pests are annoying, create potential embarrassment, and may cause physical harm. No one wants to think about creepy rodents or insects crawling around the house or a business. These pests create an unsafe environment filled with contamination. For instance, mice and rats may cause a number of diseases. Mosquitoes may bite and spread diseases as well.
Besides the threat of illness, pests may cause tremendous damage to building structures. Termites are common to the area. By the time they are detected, extensive repairs may be necessary. It is essential to conduct a thorough inspection so that issues are found early. Also, it is vital to take preventative measures and avoid problems from starting in the first place.
We have "homegrown" technicians who understand what pests are found in this area. Local communities gain peace of mind that familiar faces are controlling the pest population. All our employees continually learn and practice the latest in pest control techniques & technologies. A combination of chemical and non-chemical treatments is used to eliminate critters and restore homes and businesses back to normal.
The Garella Difference
When you detect a pest problem, you want to hire a company that provides quick and efficient service. At Garella, we strive for total client satisfaction and do whatever it takes to get the job done right. This is why we have been customer top-rated for years.
No problem is too large or too small for us to handle. Although we are capable of dealing with big businesses, we also enjoy serving regular homes. We treat all clients like family and know them by name. Friendliness should be expected, and we deliver.
We are always up-front with our prices and never charge hidden fees after jobs are completed. We make it a priority to try and work around your schedule and always arrive on time.
To experience the Garella difference, call us today for a free quote! One of our friendly customer service representatives will be happy to provide you with more information. 
Image